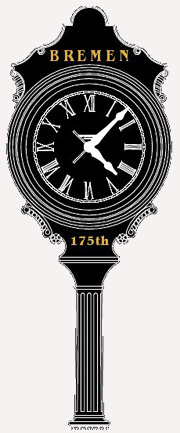 The Village of Bremen was established in 1834. Looking ahead, the year 2009 will mark the 175th Birthday of Bremen. To commemorate this occasion, the Chamber under the guidance of the Downtown Revitalization Steering Committee has decided to purchase a Verdin Street Clock. Ned Stewart of the Verdin Company will be the guest speaker at the June 17th meeting. Please make plans to see this beautiful presentation. A lunch will be served at $8.00 per plate with the meeting starting at high noon. As usual, the meeting place will be Bremen Area Historical Society, 161 Carter Street. Reservations are required at 569-9150 or bremen_chamberofcommerce@msn.com.
---
Bremen Area Chamber of Commerce was happy to deliver a cookie tray to the new business "Morgan Funeral Home". On January 10, 2008, Mark & Sherri Morgan bought the home and business at 124 Fort Street and are giving both a breath of fresh life.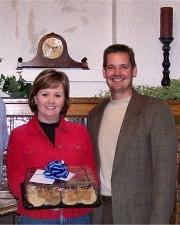 Mark is originally from this area but moved to Springfield Ohio and began working with his father-in-law in the funeral service industry. With 20 years of experience he is well-versed in the expertise and compassion required to be the community's funeral director. "We strive to make each funeral as unique as the individual it is for, and give every family the opportunity to gather, share stories, and memories in order to make each service more meaningful."
With the help of family, friends, and contractors, the lovely Moroccan-style home is receiving a well-deserved renovation. At no point in the renovation will the business be closed. Mark is ready and able to provide for the needs of our community now, and throughout the renovation process.
The Chamber is excited that since Mark's tie to the Bremen community is life-long, he has chosen this location for the business and is moving his family into the interesting home on Fort Street.
Morgan Funeral Home, 24 Fort Street, Bremen, OH 43107
740-569-4155